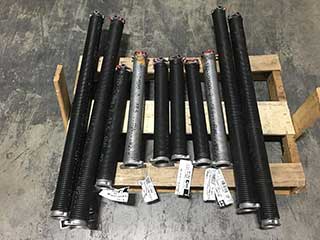 The condition of Garage Door Springs is determined by their quality but also by services and we offer the best ones! As specialized technicians in spring repair services we are properly equipped, trained and prepared to respond fast to your calls and take care of any issue related with these parts. The infrastructure of Garage Door Repair Ringwood is particularly strong and all technical teams have the right tools in order to deal with problems associated with torsion and extension garage door springs. At the same time, we are masters in their installation and have the knowledge to adjust and maintain them so that their problems will be eliminated and your safety will be guaranteed.
Spring Repair Services by Knowledgeable Technicians
Overhead door springs are the hidden power of the whole system. They make the door's movement possible thanks to the tension of the coils but it is this same energy that can have catastrophic results if it is suddenly released or if the spring breaks. We do our best to protect you from accidents and snapped springs. With great knowhow and fascinating expertise in different types of springs we offer top garage door repair and have the experience to also consult you when you are looking for new spring systems.
Our technicians at Garage Door Repair Ringwood are masters in the replacement of any spring. Whether they have already broken or you want to replace them for preventive reasons, we are here to assist you. Our service is outstanding thanks to our good training and our response is quick, especially if the situation is urgent. We promise 24 hour services in emergencies and when the broken spring must be replaced at once.
You can be sure that our teams are efficient and extremely meticulous when they service Garage Door Springs. We know how to handle them, how to install and replace them carefully. We are tremendously experienced and can be of service when you need spring adjustment, maintenance and definitely for torsion and extension spring repair. Let us know when you have problems and contact us any time for spring service!
Want more? Let us take care of:

Torsion Spring Adjustment

Belt Drive Opener Installation

Garage Door Off Track Repair

Garage Door Tune Up Services