Broken Spring Replacement
Customer Issue: The customer called us about a broken torsion spring that gave out well before the expected date.
Our Solution: We locked the garage door in its closed position, disconnected the lift cables, and slowly loosened the torsion cones. Once we were sure both springs were slack, we removed the cops and unwound both of them from around their spindles. We cleaned and oiled the system, installed the new springs, and reconnected everything. The customer will be calling the manufacturer about that defective spring!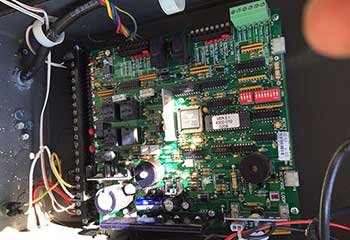 Garage Door Opener Repair
Customer Issue: The customer's garage door opener started opening and closing on its own, unprompted. Taking the batteries out of the remote control didn't help, and the customer began fearing for her family's safety.
Our Solution: We suspected that the motherboard was responsible, but replacing it had no effect. We went over the garage door opener system and found a tangled and frayed wire connecting the remote control antenna and the motherboard housing. Replacing the wire solved the problem, but we let the customer keep the fresh and newly programmed circuit board.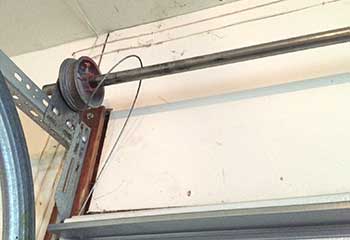 Cable Replacement
Customer Issue: The customer couldn't quite lift his garage door on his own once one of his lift cables gave out! He ordered a replacement pair.
Our Solution: After disconnecting the garage door from its opener and decoupling the cables, we started unspooling. We removed the old lift cables, cleaned and oiled the spools, and then attached and spooled up the new pair. Once we hooked the new lift cables up to the garage door, the repaired system passed all tests.